Extract of Charles Amlaws Marriage (in French)
Parish Register of Chambly
Thanks to Jean Guy for the translation.
I will try to translate but my English is not very good.
'August 11, 1788,
after publication of two banns of marriage (under exemption of one bann get
from vicar-general) between Jean-baptiste Amelin
resident Pointe-aux-Roches, son of Jean
-Baptiste amelin and marie-françoise Sulliere his
father and mother from one side and Agathe Bureau daughter
of Jean Bureau deceased and marie angélique Girardin
her father and mother the other side. We did not find
any obstacle, we undersigned parish priest of M. Olivier
with the agreement of mister mennard parish priest from here
we received their mutual consent and we gave
the nuptial blessing following the form
prescribe by the catholic church in view of
Pierre Lamoureux and Jean-Baptiste Sabaté friends
of husband: Michelle Lamoureux and Marie
-Anne Parenteau friends of wife and many other
people they all declared not signed as well
as spouse.
Priard, priest
and in presence of the witness
the spouse declared had a child together
before the marriage and ask the
child to be declared and declare
her as legitimate child; the days and years
mentioned above
Mennard J priest'
Hoping the translation is not to bad.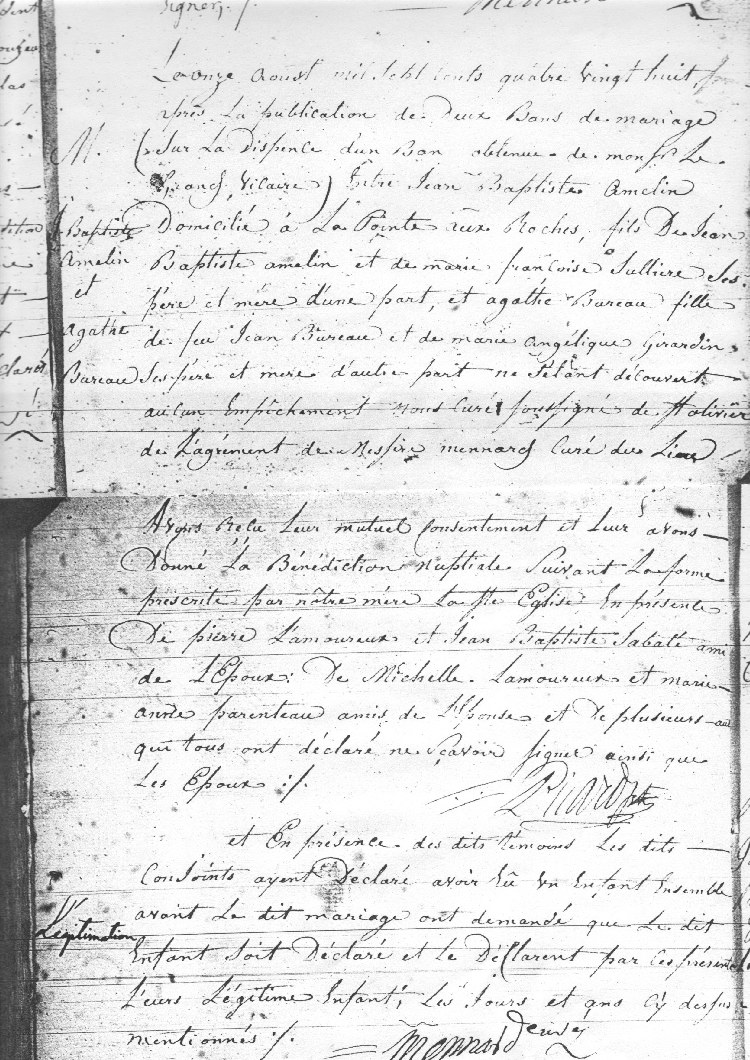 It's worth noting that Fr. Menard was a priest known to be willing to marry the "excommunicated" former soldiers in the refugee community. They had been excommunicated by Bishop Briand of Quebec for "going with the rebels". The Bishop was concerned that the English would punish the Catholic French and cease allowing the free practice of their religion. This excommunication was later lifted.